Pre-sale for Albatross KIT version at low price !
The Albatros D.III was developed by the Albatros-Flugzeugwerke company and represents one of the more distinctive and iconic lines of aircraft from WW1. It incorporated features that were at the cutting edge of available technology with its streamlined monocoque fuselage and water-cooled, 6 cylinder Mercedes DIIIa inline engine.
The D.III was liked by its pilots for its manoeuvrability and rate of climb and was flown by some of the most notable German aces including Manfred von Richthofen, Ernst Udet, Wilhelm Frankl and Erich Löwenhardt, among them. Although beset by structural problems, the Albatros D.III became the outstanding fighter during the period of German aerial dominance known as "Bloody April" in 1917.
This 1:18 scale static replica models the Albatros in fine detail, right down to the 6 cylinder Mercedes DIIIa engine and the twin LMG 08/15 machine guns. The aircraft structure is faithfully reproduced and pre-built into the major sub-assemblies requiring minimum work to finish this superb, museum quality model into a fine scale replica of this famous WW1 fighter.
Specs:
Scale: 1:18
Wingspan: 500mm
Length: 360mm
Weight: 154g
Now we do not supply the PNP version,we change to supply KIT version:
1) KIT without scale parts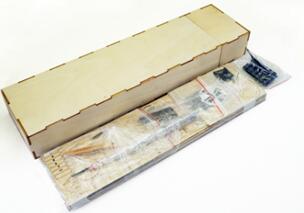 2) KIT with scale parts



You must built them yourself as per the 1:1 drawing,finally you will get the following one:
Pls give order now if interest !